Vote for us – Best Live Theatre in Cobb County!!!
We are humbled to have been nominated as the best live theatre in Cobb County! Please click the Best of Cobb logo below and scroll down to "Live Theatre" to vote for us: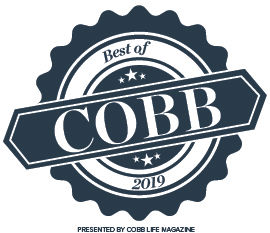 You can vote every day through January 25, and we would LOVE it if you do! 
Opening February 8 – I Love You Because

I Love You Because is a modern twist on Jane Austen's Pride and Prejudice, set in New York City. A young, uptight greeting card writer's life is changed when he meets a flighty photographer. Along with their eccentric friends and siblings, they learn to love each other not in spite of their faults, but because of them.
Don't miss our special Valentine's Day Couples Night performance – table seating, two glasses of wine, two tickets to the show, hors d'ouevres and dessert for one low price!
Starring Jacob McKee, Lillian Shaw, Blake Fountain, Stephanie Earle, Tony Glass, and Katrina Stroup.