We are excited to share our 2024 season with you! Come hit the road with us this year as we make the move to Marietta's Theatre in the Square, and present BIGGER musicals for you!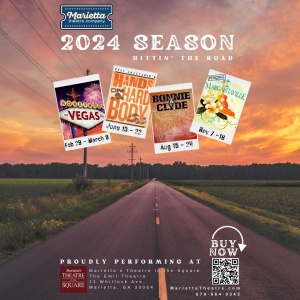 Feb 29 – March 9: Based on the 1992 movie, bet the house on HONEYMOON IN VEGAS, an insanely funny new musical full of skydiving Elvises, captivating chorus girls, red-hot romance, and really cold feet. Score by Tony-winning composer, Jason Robert Brown. Rated PG-13.
June 13 – 22: 10 contestants. 4 days. 1 truck. Inspired by a true story and infused with a fresh, roots-rock vibe with music by Trey Anastasio of Phish, HANDS ON A HARDBODY is a hilarious, heartfelt, hard-fought contest where only one winner will drive away with the American dream. Rated PG-13.
Aug 15 – 24: An electrifying story of love, adventure, and crime follows two small-town nobodies' journey to becoming America's most renowned folk heroes in this thrilling Tony-nominated musical, BONNIE & CLYDE. The sultry score combines blues, gospel, and rockabilly sure to blow you away. Rated R.
Nov 7 – 16: Kick off your flip-flops and set your clock to island time. We're heading on an ESCAPE TO MARGARITAVILLE, a tropical paradise where love and laughter abound and hit songs by Jimmy Buffett beckon you to put your toes in the water and get those fins up! Rated PG-13.