THE REMAINDER OF OUR 2022 SEASON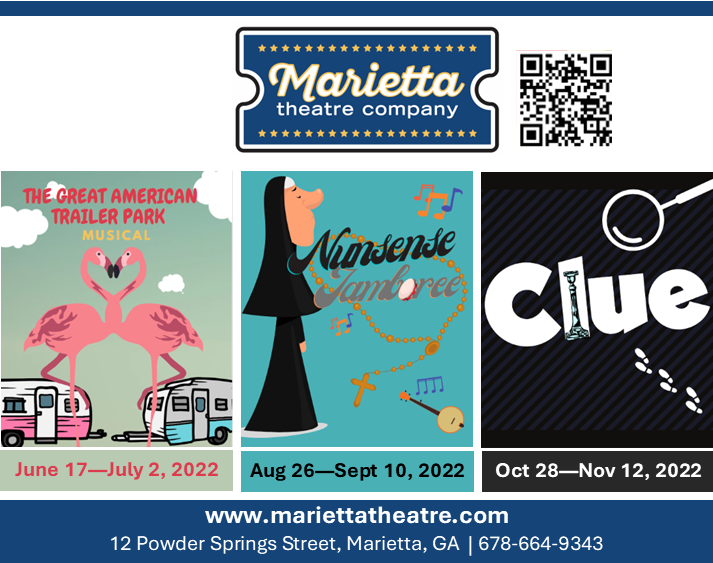 The Great American Trailer Park Musical: June 17 – July 2
There's a new tenant at Armadillo Acres—and she's wreaking havoc all over Florida's most exclusive trailer park. When Pippi, the stripper on the run, comes between the Dr. Phil–loving, agoraphobic Jeannie and her tollbooth collector husband—the storms begin to brew.

Nunsense Jamboree: August 26 – September 10
In Nunsense Jamboree, Sister Mary Amnesia's dream is realized as she headlines a brand new show promoting her debut album, I Could've Gone to Nashville. Sister Mary Amnesia has made her first album and is on a tour promoting her new recording. Touring with Sister Robert Anne, Sister Mary Leo, and two new friends: Father Virgil Trott (Sister Mary Leo's brother, a Franciscan priest with his own country radio show), and Sister Mary Wilhelm, the Superintendent of Nursing, this hilarious hoedown is Nunsense fun with a Laugh-In/Hee-Haw/Grand Ole Opry slant.
Clue: On Stage: October 28 – November 12
It's a dark and stormy night, and you've been invited to a very unusual dinner party. Each of the guests has an alias, the butler offers a variety of weapons, and the host is, well . . . dead. So whodunnit? Join the iconic oddballs known as Scarlet, Plum, White, Green, Peacock, and Mustard as they race to find the murderer in Boddy Manor before the body count stacks up. Based on the cult classic film and the popular board game, Clue is a madcap comedy that will keep you guessing until the final twist.